Kink's farewell to music
By Martin Ford
AS one of Broxbourne borough's favourite sons puts down his bass guitar after a career spanning almost 50 years, former Kink John Dalton looks back on his life as a bona fide rock star.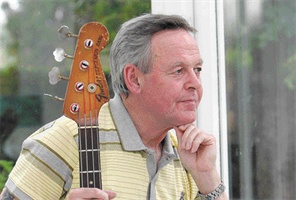 A recent swansong show with the Kast Off Kinks - the band that reunited John with other former members - at Broxbourne Civic Hall brought to an end a career that began just down the road in Cheshunt 49 years earlier.
However, his story begins even before taking to the stage.
"My claim to fame is that I went to school with Cliff Richard," John said, revealing that the ageing crooner, three years John's senior, was his prefect at Cheshunt Secondary Modern School. Fame came a lot sooner for Cliff, however.
After enjoying local success with
Danny King and The Bluejacks
, and playing alongside
The Who
with Mark Four, John gave up on a music career.
"I thought we weren't going anywhere so I stopped playing," he said.
However, he was approached by a former roadie to audition for
The Kinks
, to stand in for an injured Pete Quaife in 1966.
"I didn't want to do it at first, but he persuaded me. I thought, 'It's the chance of a lifetime, you've got nothing to lose'."
John related his first meeting with the band: "There was Mick (Avory) tapping away, Dave (Davies) was lying flat on the floor, Ray (Davies) came in with a couple of singles he was supposed to review and threw them out of a window - it was all a bit frightening."
"They said, 'What are you doing this afternoon?' and we went straight to the studio to play Top of the Pops!"
After contributing bass to hit track
Dead End Street
, John returned as a permanent member in 1969 when Quaife quit the band. He stayed with them for the next seven years.
"The Kinks played their best live music in the early '70s. You've got to work, and we toured 12 weeks, three times a year. When you're not touring you're recording - we recorded four or five albums a year."
Seminal Kinks tracks recorded in that time include Victoria, Shangri-La and the evergreen Lola.
In 1992, the Kast Off Kinks reunited John with two other ex-Kinks, original drummer Mick Avory and keyboardist John Gosling, plus Dave Clarke on vocals.
"We've always been friends, and it all started off at the Civic Hall when we had an offer from the Kinks fan club 16 years ago. They asked us, so we got together."
The band played conventions and charity shows to raise funds for the Leukaemia Research Fund, after the disease claimed the life of John's third son Matthew at the age of six.
However, John ended his professional career with a bash at his home, which saw Ray Davies drop by.
"The idea was to get as many of the musicians I have played with and perform a little set with each band through my years."
And his highlight of the last 49 years?
"My grandson Declan, I absolutely love him to bits - he's greatest thing that's happened to me."