Reminder: Kast Off Kinks Hook Norton 1st July
26.06.06 kaa
Ray Davies and band Summer 2006 Tour
North American (central & west coast)

July 2006
1 - Detroit, MI - Comerica Festival - Preview
2 - Milwaukee, WI - Summerfest - Review
4 - Chicago, IL - Taste of Chicago - Grant Park
6 - Denver, CO - Paramount Theatre - Tickets - Preview
7 - Salt Lake City, UT - The Depot - Tickets - Preview - Review
9 - Vancouver, British Columbia - Commodore Ballroom -Tickets-
Preview - 2 -
10 - Seattle, WA - Moore Theatre - Ticketmaster - Preview - Review
12 - Saratoga, CA - Mountain Winery - Tickets - Preview - Review - 2 - 3
13 - San Francisco, CA - Warfield Theatre - Tickets - Preview - Review
15 - San Diego, CA - Spreckels Theatre Tickets - Preview - Review
16 - Los Angeles, CA - The Wiltern LG Tickets - Preview - 2, Review - 2 3
19 - Tucson, AZ - Rialto Theatre Tickets - Preview -
21 - Dallas, TX - Gypsy Tea Room Tickets - Preview
22 - Austin, TX - Paramount Theatre

And after the summer tour :
"There's got to be new music. We can't just play the old hits."

26.06.06 kaa Pictures of Ray Davies from april 2006, Rockefeller, Oslo Norway.

xJune 25: Bjørn Eilert Mork - BergenKink is 30 years today
Congratulations from WhyKinks and many of our readers!
25.06.06 at and kaa
June 21: Ray Davies 62 today - Congratulations!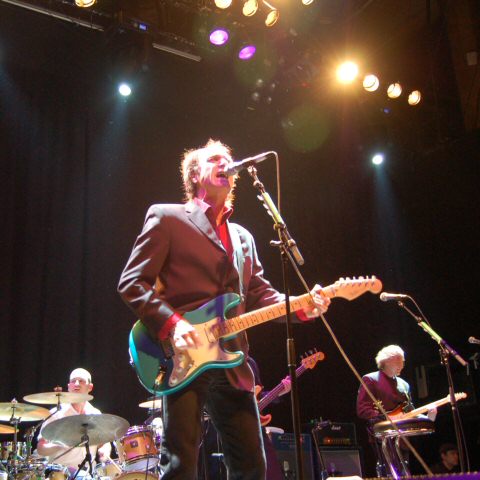 April 21: Ray in Rockefeller Music Hall, Oslo
Here are three previews from the ten years activities Pre 1 Pre 2 Pre 3
More is coming in a few days



15th of June 1996 - 2006
The Kinks' last concert, Oslo, Norway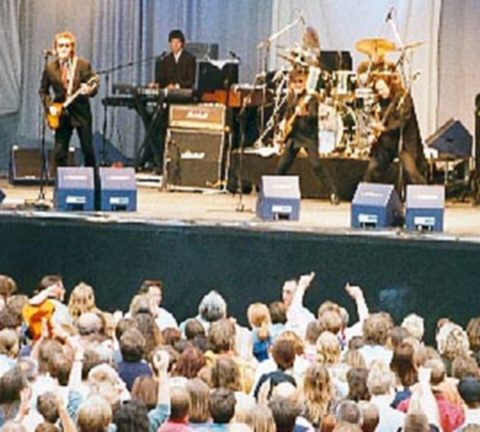 Is this the last picture of the The Kinks on stage? x Photo by Jan Øivind Jensen


VG 14.06.06 (Norways largest newspaper): On June 15, 1996 the organisers
of the NorwegianWood Festival where afraid of a draw, extra time and perhaps
even penalties in the game between Scotland and England. Guess why?
- "They (The Kinks) didn't want to enter the floor before the match between
England and Scotland where finished. I was scared to death for extra time" tells
Jørgen Roll, one of the festival bosses.
14.06.06 kaa
One day to go!
Spareribs and schrimps toghether with some simple white wine on the restaurant "New Orleans". Co-ed with wife spend the last evening before the "Ten Years Anniversary" for the last Kinks concert - trying to get some new inspiration.
14.06.06 kaa
Ray Davies - a suprice?
Under the European Athletics championships in Gothenburg, Sweden there will be a celebration-concert for the Kinks. Local band "Kind of Kinks" with amoung Nikke Ström, Bengt "Bengan" Blomgren are playing.
5 suprice guest artist will play too. Earlier this year Ray Davies was on one of their concerts.........
14.06.06 kaa and th

"Brilliant!



This is probably one of the easiest reviews I've concocted in years. Some critics will say that this is one incredible comeback album but in truth, Ray Davies was never ever away. Nobody does it better…
A+
"
From a review in Singapore based "power of pop" website
more reviews here
The Official Fan Club - Their new WEB SITE is out now!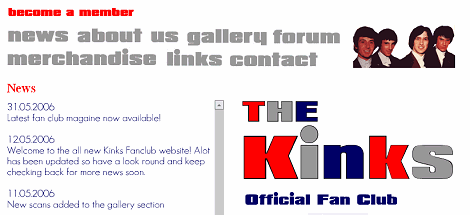 You will find news, information on the fan club, a gallery, merchandise, links and a forum. LINK
090606 kaa
Last News from

:
The Kinks won't have their reunion before the 15th of June 2006, so there's still possible to join the 10 year anniversary in Oslo. (puh)

300506 21:42 co-eds with friends
The end of WhyKinks?

"RAY DAVIES CONFIRMS KINKS REUNION
Movie & Entertainment News provided by World Entertainment News Network (www.wenn.com)
2006-05-30 09:15:09 -
Veteran rocker RAY DAVIES is planning a summer reunion with his brother and former THE KINKS bandmate DAVE DAVIES to discuss reforming the British band.
Former frontman Ray admits his rocky relationship with his brother has improved since Dave suffered a stroke in summer 2004 and they are planning to write new songs together.
Ray says, "My brother has been sick for the past year. but I'm going to get together with him and we're going to see if the music is still there.
"There's got to be new music. We can't just play the old hits." (ES/WNTMA/GES)"

Is this true, ????????
and for all of them?

300506 21:42 kaa
Hello The World
Hello Scandinavia
Hello Norway
Hello Oslo

15th of June, ten years after The Kinks Last Concert Ever, in the Whole Wide World, in Scandinavia, in Norway, in Oslo, it's time for memories, reunion and perhaps a meeting. We are in contact with the Norwegian cover band David Watts. The Editors are going to the Vigeland Park where the last concert took place, afterwards we are trying to establish a fan meeting with music, memories and more. Are there anyone who wants to join us?

Please leave a message on

the whykinks.net

And we will give you an update of our plans.

Kai and Arve

300506 23:01 kaa