The Gazette, December 26, 2007 :
Our music critics pick the best of 2007
Bernard Perusse:
9. Ray Davies: Working Man's Cafe (V2). Rock's most lovable curmudgeon bashed out 12 songs in a hurry, which probably explains why most of them sound like lost Kinks classics.
A Kinks Kristmas
Bill Glahn writes: A case could probably be made that Ray Davies is the Charles Dickens of rock 'n roll.
News.com.au, By Noel Mengel December 21, 2007 11:00pm
Davies unkinks creativity
AFTER waiting until age 62 to deliver a solo album, Other People's Lives, Ray Davies has released the even-better Working Man's Cafe.

Working Man's Cafe (V2/Shock) sounds exactly what his fans are hoping for, and that's a new Kinks record. A vintage one, at that.

Davies has been making records since 1964, most of them with The Kinks, and here he hits a groove that sits neatly beside high-quality '70s albums like Sleepwalker and Misfits. Which is to say Working Man's Cafe is a rock 'n' roll record, guitars and drums pumping, Davies' voice sounding as lively and as confident as it did at his commercial peak.
click on the banner:

Kinky2:
Saturday December 29th at 19.30 hours, Nederland 3. Top 2000 a GoGo

A lot of pictures from the konvention,
when we are back in Oslo, Norway
Arve and Kai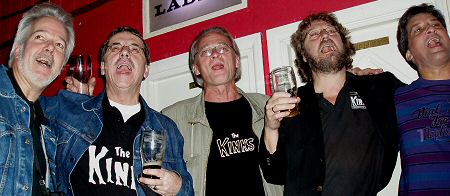 coming soon!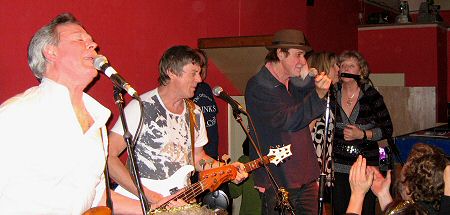 photo: Bergenkink
The last time they played on stage together was 31 March 1976 at The Congress Centrum, Hamburg, Germany.
"Come on over, it's Thanksgiving Day"
Big L with 3 more Kinks song - gmt 18 November
23:15 Dedicated Follower Of Fashion
23:18 Dead End Street
23:21 Waterloo Sunset
Great start for Big L's new program
"This Sunday At Nine" starting with The Kinks
This weekend Mike Read hosted the first in a new series of Big L programmes. This Sunday At Nine is an hour-long show dedicated to a specific artist or genre. Each week will feature a different artist.

Today (18 November) Mike presented the music of The Kinks. "Formed in Muswell Hill in the early 60s by Ray and Dave Davies, these north London sensations have gone on to record some of the most memorable songs of all time, influencing thousands along the way." It is repeated Wednesday at 21.00.
22:58 The Kinks on This Sunday At Nine is over
repeats next Wednesday (21 November) at 21.00


22:55 Dead End Street
22:51 David Watts - The Jam
22:49 Stop Your Sobbing Chrissie Hynde/Pretenders
22:48 On Rays Reunion Plans
22:44 Vietnam Cowboys - Ray
22:39 Come Dancing
22:36 A Well Respected Man
22:33 Death Of A Clown - Dave
22:26 Celluloid Heroes
22:23 Days - Kirsty MacColl
22:19 Supersonic Rocket Ship
22:15 LOLA - Robbie Williams
22:12 The Village Green Preservation Society
22:08 Working Man's Café - Ray
22:05 Tired of waiting
22:03 You Really Got Me
21:00 Waterloo Sunset
WhyKinks gives you the songlist right now! Reload your browser!
(21:00-21:01, :04, :06, :08, :13, :16, :22, :24, :27, :33, :37, :40, :44, :51, :53, :55, :58)

Waterloo Sunset is on the air!
Mike Read started "This Sunday At Nine" 1 minute ago!
21:01 gmt kaa
| | |
| --- | --- |
| "Working Man's Cafe", Ray Davies 44 reviews 13 countries | |

Kinks on "This Sunday At Nine"
International radio station, Big L 1395AM will be kicking off its new weekend feature, This Sunday At Nine with a look at the music and career of The Kinks.

Hosted by former Radio 1 DJ, Mike Read, the hour-long programme will feature classic Kinks tracks, forgotten gems, as well as a few cover versions (Kirsty MacColl, Pretenders et al). Both Ray and Dave will have songs included.

The show airs this Sunday (18 November)at 21.00. It repeats next Wednesday (21 November) at 21.00
Ray Davies. Kinks legend has come out with two quick albums of great new songs. One of the great bands out of the British invasion, the Kinks, in my mind, matched the Beatles. Certainly out-rocked them. His tour last year was terrific, and even newbies were awed. One of the all-time great pop songwriters, if not the greatest (sorry, Macca)..
17/11-07 kaa
Indie band pays tribute to Ray Davies, Kinks on new album


Taking the lead of one of his favorite bands – The Kinks – Trokan made sure that his songs were filled with interesting characters.

"I think that's something I've always tried to do," Trokan said. "Ray Davies is kind of the master of that. He can pick a subject and write a whole record about it, no matter how detailed it is. But I've always liked making up a character and then writing about that person."

17/11-07 kaa
Prepare yourselfe!
An add for TheWhyKinks' Ray Davies Fan Page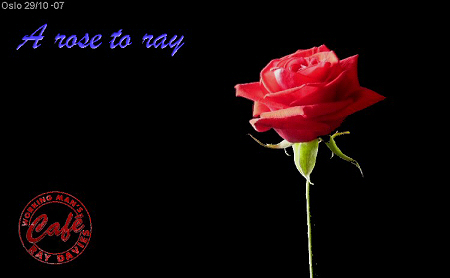 From The WhyKinks' Ray Davies Fan Page
48 videoes - 500 Pictures - Shangri-La - Waterloo Sunset ++

25/11 - Boston Arms, London The Kinks Fan Club Meeting 2007
KAST OFF KINKS
Supported by Pete Watkins and Friends
the original 16 track version of
The Village Green Preservation Society,
This will be the first time the album has been performed live as a suite of songs, and the first time ever for several of the songs!

Go to Th WhyKinks Fan Club Meeting page for details
"Working Man's Cafe" Ray Davies 36 reviews 11 countries

LINK
| | |
| --- | --- |
| The WK-Ray Davies fanpage with links to three videoes from the E-proms | |

| | |
| --- | --- |
| 05/11 577,000 for "Working Man's Café" "Ray Davies" on Google | |
| | |
| --- | --- |
| "Working Man's Cafe" Ray Davies 21 reviews from 8 countries | |
thesun.co.uk
"I'm not a content person," he says. "Not one of these wise old heads. I'm an old head but I'm not wise. That gunshot put me on a course. Maybe I wouldn't even have finished a record because I was on the verge of moving to New Orleans and taking up these writing courses, starting with the kids." LINK

Have anyone been contacted by Caroline Jones?
As we remember are Jobo Developments thrilled to have secured the site of The Clissold Arms. And they stated: "In respect to the Kinks Memorabilia & subsequent historical connection to the Clissold Arms, I would like to confirm the following:
We have no intention of removing it from the building; at no point did I use the word 'auction'- or state that the Kinks historical connection to the Clissold was not in keeping with the way we wish to run the Pub.
Our only aim is to enhance both the natural features & atmosphere of the Clissold Arms & to provide a quality food offering."
Who have they consulted to live up to these aims, how will they secure " the Kinks historical connection to the Clissold"?

If they told us, it would

lead to

a lot of good-will and

enthusiasm

. Will it be a

singsong

/

sing-along

on the 24th of november? - what a great reopening of the Clissold Arms!
1/11-07 kaa
www.muswellhilljournal24.co.uk/:
Owners of 'Kinks pub' deny nightclub claim
"According to Malcolm Matthews, who lives next to the car park in Orchard Court, off Annington Road, 11 shipping containers and several more skips have arrived and left full."
.......
"Architect Ian Archer, whose home overlooks the car park from the other side of Fortis Green, added: "Malcolm told me that large numbers of skips had been filled up with material and the only suggestion that I could come up with was that they were excavating the cellar."
..........
But a spokeswoman for Caroline Jones, director of pub owners Jobo Developments, said: "They are not doing anything at all to the basement. There isn't going to be a club downstairs or anything.

"There have been no layout changes other than an addition of a galley kitchen - which is probably why the neighbours saw skips.

"There were apparently some structural problems so the back area had to be repaired. The Clissold Arms will just reopen as a local pub with good food."
This is the new front of Clissold Arms!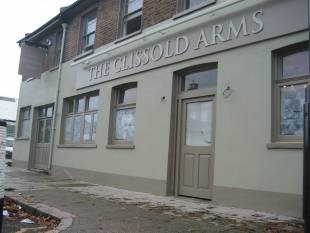 photo: Muswell Hill Journal
2theadvocate.com
My band with Ray Davies is on the front page
"Following the release of the band's album debut, 2000's "Mass Romantic," the New Pornographers got a career boost at the South By Southwest Music and Media Conference in Austin, Texas. Ray Davies of the Kinks, the conference's keynote speaker that year, joined them on stage for a performance of the Kinks' classic "Starstruck."

"It made people notice us," Collins said. "I guess there was a buzz already at South By Southwest. We were one of those up and coming bands, but it was bizarre getting up at 7 in the morning the next day to catch a plane and there's a newspaper in front of the hotel room and my band with Ray Davies is on the front page of the entertainment section. We were just like, 'Holly cow, it's really happening!' "

1/11-07 kaa
More from BBC Electric Proms

www.telegraph.co.uk_
Ray Davies: Timeless tunes that warm the heart of the nation
www.scenta.co.uk:
He doesn't stint on Kinks' numbers, and remains an engaging and energetic performer at 64, dedicating the raunchy yearning of Tired of Waiting for You to his frequently estranged brother Dave.

www.muswellhilljournal24.co.uk/
Ray rocks Roundhouse with Festival Chorus

www.gigwise.:
10 photoes of Ray Davies and Johnny Borrell
1/11-07 kaa
THANKS A BUNCH!


get a

from rose, (because of our Ray Davies Fan page) isn't it beautiful.
30/10 0408 282,000 for "Working Man's Café" "Ray Davies". on Google try now

BBC Electric Proms - WhyKinks have seen it online:
What a show, invite your friends, listen to the show, have a good time, oh god he makes a difference! Here are the LINK once more.
Online until 4 November
BBC Electric Proms
Roundhouse Chalk Farm Road, Camden Town
Ray, you really got me
"For those present, this was a Last Night of the Proms they will never forget." LINK
By André Paine, Evening Standard 29.10.07 André Paine's rating
Here are the show - only this week
1 hour 45 min Online until 4 November
More on Ray Davies with friends Tips. Use the full screen!
kaa 30.10

USE: the Standard quality
below 256k
"We all seem to pass the time of day
Online at the internet cafe" WMC-RD-07
Electric Proms music.guardian.co.uk LINK

with a Ray Davies website, try it here: LINK
28/10 Uploaded on Flickr by BBC Electric Proms
A great picture of Ray and his friends A great picture of Ray and his friends LINK
Monday, 29 October 2007
Ray Davies rounds off the Electric Proms in style
The singer, who was backed by a nine-piece band throughout his set, also played four songs off his new album

'Working Man's Cafe

which is officially due out tomorrow (October 29) but was also given away for free in last week's

Sunday Times

, much like Prince's recent release through

The Mail On Sunday

. In reference to last week's giveaway,

Davies

said: "My new record is not out until tomorrow but strangely some people seem to know the songs already. There must be some sort of conspiracy.""
Use the LINK button to read it all, recommanded!
29/10 kaa
Lloyd H. Cargo: 10/24/07

Hand it to Wes: the man has taste
"This is not a column about my new favorite movie, "The Darjeeling Limited." This is not a column about the soundtrack to that film, which is also excellent. This is a column about how "The Darjeeling Limited" reignited my love affair with the best British band not named the Beatles: The Kinks" -->

LINK
Kunsten å elske Ray Davies - The Art Of Loving Ray Davies
This is the headline of a swedish article in the norwegian newspage "ABC Nyheter". Lennart Persson writes about his meetings with Ray Davies.

LINK
27/10-07 22:17 210,000 for "Working Man's Café" "Ray Davies" on Google try now
27/10-07 00:30 168,000 for "Working Man's Café" "Ray Davies" on Google try now
| | |
| --- | --- |
| Working Man's café - 13 reviews 4 countries 25/10 | |
"Now it's a product invasion" Ray Davies
caterer.com 20/10/2007 22:00.
Jobo Developments Ltd wants Sous Chef - High Profile Gastro Pub!
Is the Clissold Arms the "High Profile Gastro Pub"?
Job Details: LINK


21/10-07

Great article 10-track selection 1-4 10-track selection 5-10
John Dalton On "Who's calling Christian"
There is a competition going on at Virgin Radio called 'Who's calling
Christian' Use this LINK to get more info. You can vote for John so that
he might win £10,000 for his favorite charity. (a Leukemia charity).
You can also hear John Dalton here: 'John Dalton' by The Kinks
(here you can here John the carpenter telling Christian about John the baptiste)
17/10-07 10:79 27,400 for "Working Man's Café" "Ray Davies" on Google try now
Ray Davies and his friends from Muswell Hill.
The Kinks' Ray Davies will close this years BBC Electric Proms in London togheter with the Crouch End Festival Chorus, and Razorlight frontman Johnny Borrell.
BBC: "A member of the esteemed Rock and Roll Hall of Fame since 1990, it is a privilege to have Ray Davies performing as part of the BBC Electric Proms. Playing tracks from his new album 'Working Man's Café' along with classic hits from The Kinks' canon including the brilliant 'The Kinks are the Village Preservation Society', Ray will also be joined by some very special guests including the Crouch End Festival Chorus and Razorlight's Johnny Borrell."
From Muswell Hill on Wikipedia:
1. "Johnny Borrell from the band Razorlight was born and grew up in Muswell Hill"

2. "The area was the birthplace of musicians Ray and Dave Davies of the The Kinks, who began their career here and helped immortalize it with their 1971 album Muswell Hillbillies. A plaque and memorabilia in the Clissold Arms pub in Fortis Green commemorate Ray and Dave's first public performance there."

3. "Crouch End Festival Chorus (founded 1973) famous for performances at BBC Proms, multiple film scores, and promotion of its own concerts of varied classical and modern music rehearse at Fortismere School every Friday night."
Ray Davies and friends on the bbc:
Hear the gig on Monday 29 October: 20.00-22.00.
Watch highlights on Sunday 28 October: 00:10-00:40
Watch highlights on Monday 29, Tuesday 30 October.
Online to watch for a week from Monday 29 October.
Searching: "Working Man's Café" "Ray Davies" on Google

10.000 more hits in one day and one night!

d/ m - y, h:m

15/10 - 07, 01:37

10,500 for "Working Man's Café" "Ray Davies". (0.08 seconds)

14/10 - 07, 00:49

624 for "Working Man's Café" "Ray Davies". (0.09 seconds)

From Times Online 14/10 2007:
Ray Davies: free download
Plus pick up his new album free in The Sunday Times October 21
"On Sunday, October 21, British music legend and lead singer of The Kinks, Ray Davies, will release his eagerly anticipated new solo LP 'Working Man's Café', free with every copy of The Sunday Times. Written by Ray, who headlines the BBC Electric Proms on October 28, it looks set to be the definitive album of his 40-year career." (kaa 14/10 02:03)
Download "Vietnam Cowboys" on this LINK
| | |
| --- | --- |
| | Interview with Ray Davies on |
| "Working Man's Café" | |
From The Official Kinks Fan Club website:
"Fan Club Meeting 2007

This year's Fan Club meeting at THE BOSTON ARMS 178 Junction Road (Tufnel Park Tube) LONDON will take place on SUNDAY, NOVEMBER 25TH 2007 with
KAST OFF KINKS live on stage.
Support will be Pete Watkins and Friends perfoming the Village Green Preservation Society, (original 16 track version) in full. This will be the first time the album has been performed live as a suite of songs, and the first time ever for several of the songs! Tickets available now at £12-00."

kaa 05/10-07
| | | | |
| --- | --- | --- | --- |
| | New videosection | | |
Why not try?: http://www.myspace.com/whykinks
Los Angles Times: "self-constructed Kinks tour"
"Rick Walden of Beverly Hills taught his sports law class last Thursday at the University of San Francisco, returned to Los Angeles Thursday night at 11, flew to London on Friday, saw the game Saturday, took his own self-constructed Kinks tour of Ray Davies' Muswell Hill neighborhood on Sunday morning, saw the game Sunday and planned to fly back to Los Angeles today, then to San Francisco on Tuesday to teach sports law for four hours."
Razorlight frontman Johnny
Borrell and the Kinks' Ray
Davies will close this years
BBC Electric Proms in London.
The duo will play together at London's Roundhouse venue on October 28th.
kaa 03/10-07