| | |
| --- | --- |
| | |
| | |
| 2010-4 Newsletter est. 301103 Oslo, Norway | |
Boston Arms 2010

This years Fan Club meeting will take place at The Boston Arms on Sunday, November 28th with Kast Off Kinks and Pete Watkins.

Tickets £15.

Overseas visitors can reserve by e mail/pay on the day.
UK members and guests should reserve by cheque to the PO Box.

ALL ARE WELCOME.

24/11-10 kaa
From Ray Davies webpage: 23rd Nov '10
- Ray Davies' North American tour cancelled.

Ray did not personally cancel the American dates but was ordered by his doctors not to fly or embark on the accompanying ground travel for the forthcoming four US dates until his medical condition has stabilized to their satisfaction. The doctors could not provide a time frame for this and advised Ray to cancel the dates.

Ray would like to thank all his fans for their continued support and asks that everyone respect his privacy so he can concentrate on a swift recovery.

---

24/11-10 kaa
Saturday 6/11 -10 Come back concert with
"David Watts"
the famous norwegian The Kinks cover band
Alexandria, Oslo Norway
Here you have a LINK to a "David Watts" fanpage!
Kai 60: Surprise - Surprise - Surprise

Oslo 23/10: WhyKinks editor Arve Tunstad surprises
WhyKinks editor Kai Arne Armann on his 60th birthday.
Currently, there are no editors of WhyKinks who are able to work, you just have to wait - sorry! Once we have our feet on the ground again, we will -
well, we don't know it yet!


-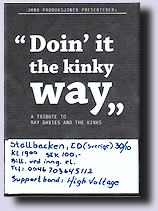 "

Doin' it the kinky way"




on an international tour!
Saturday, 30/10 Ed in Sweden can experience a wonderful tribute to Ray Davies and the Kinks.

Support band "High Voltage" YouTube

Videoes from a

"Doin' it the kinky way"

performance in Halden, Norway - 2009!

16/10-2010 ca 0040 "Days", on NRK1, if you didn't see it, here it is:
11/10 2010, Oslo, Norway - Endelig Mandag Band, Alexandria - "You really got me" + +

proudly presents:
Ray Davies at Lejre - "Shangri-La"
more?

The

17 & 18 Sept. 2010
DOIN' IT THE
CHORAL
KINKY WAY
A TRIBUTE TO RAY DAVIES AND THE KINKS
With
Band, Pico Canto, soloists and guests.



-

23/9-10: exclaim.ca: "See My Friends

will be released on November 1 in the UK via

Universal UK. A North American release date has not yet been announced. More information on the record can be found

here, while brief snippets of each track are available at

this link."

See My Friends
:

1. Bruce Springsteen
"Better Things"
2. Jon Bon Jovi & Richie Sambora
"Celluloid Heroes"
"Days/
3. Mumford & Sons
This Time Tomorrow"
4. Lucinda Williams & The 88
"Long Way From Home
5. Metallica

"

You Really Got Me"
6. Paloma Faith
"

Lola "

7. Jackson Browne
"Waterloo Sunset"
8. Alex Chilton & The 88
"'Til the End of the Day"
9. Amy Macdonald
"

Dead End Street"

10. Spoon
"

See My Friends"

1. Black Francis
"This Is Where I Belong"
12. The 88
"David Watts"
13. Gary Lightbody
"

Tired of Waiting"

14. Billy Corgan

"All Day and All of the
Night/Destroyer"
Halden, Norway 17/09 2010: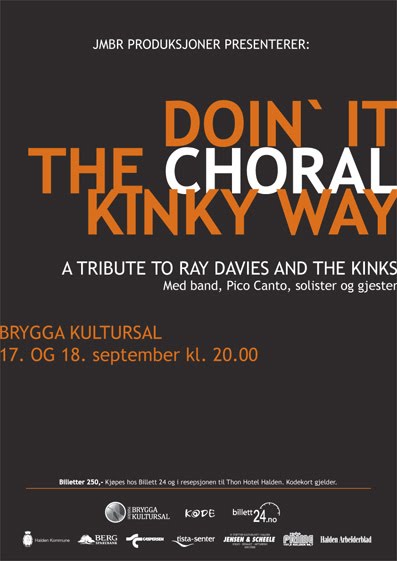 More is coming soon!
Backstage at GQ with Noel Gallagher and Ray Davies



W

hich outstanding achievements ?????


"So as you see I got the GQ award for outstanding achievement last night, they didnt tell me which of my many outstanding achievements it was for though. Thanks to Noel, Dylan Jones and all at GQ."
Imaginary Man
Ray Davies, 21 August, Castle Park Ledreborg, Denmark
The Ray Davies Castle Consert section is opened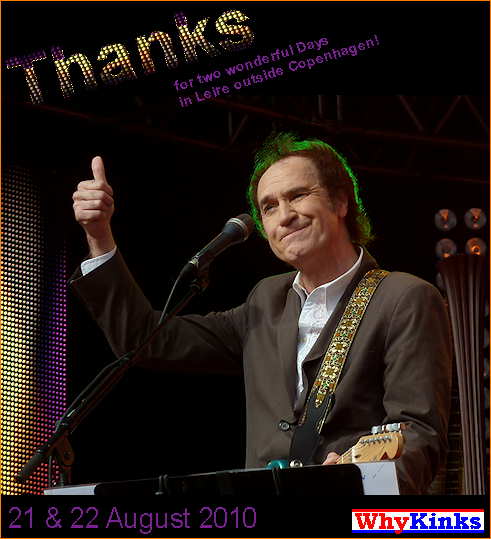 14 videoes from "Doin' it the kinky way"

at Ankergården, Halden, Norway. September 2009
Popthomology




Monday, August 2, 2010:

KINKS KOVERS KOME TO KOMPAKT KLUB; KULTISTS KAPTIVATED!
MariannSp's

BLOGG reports from the Kinks Tribute Night at the Sunset Tavern, Seattle 30/7-2010. It started with: "The Quaifes brought VGPS to life again for the smiling fans at the Sunset, who nodded and and sang along with them." and a lot of bands follows up! - the report and 16 videoes from the Kinks Tribute Night on the link.

-
LINK
-
The holiday is over, here are the holiday:
03/08-10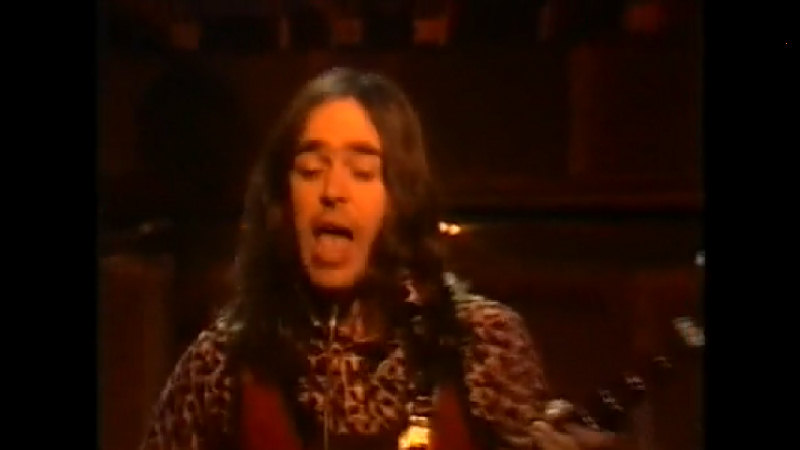 020810 kaa (click on the picture)
A wonderful Dave Davies tribute from the Spivs!

24.07.10 Kai and Arve
Ray Davies:
Because so many people were unable to make the trip to Denmark for Pete's funeral, Mick and myself have spoken and decided to put on a memorial night for Pete in Muswell Hill were the Kinks first formed.

We are currently talking with others and looking into venues
and will hopefully announce information soon


LINK
Here is a summery of a e-mail from Petes brother David:


from David Quaife - Petes donations:
I have received many emails and telephone calls by very kind people
wishing to donate to Pete's memorial donations.
The donations will be used firstly for Pete's funeral costs, wake and gravestone.
We are expecting a considerable amount of mourners.
As Pete's partner Elisabeth will be excluded from any inheritance (not married)
I think it also appropriate to donate an amount to lessen her burdens she will undergo from losing Pete - her sweetheart and loved one for many years.
Elisabeth has supported Pete through many a difficult times, not the least the special care and love she gave Pete with his regular dialysis sessions 3 times a week, and the loving, nursing care during the last days of dear Pete's life.
The monies over will be donated to an applicable,
registered Dialysis research fund.
Yours Aye,
David Quaife
| | | |
| --- | --- | --- |
| Euro | Danish Kroners | US Dollars |
The donations will be paid direct into PayPal and then transferred to:-
Nordea Bank
Stubbekøbing branch
4850
Denmark
In memory of Pete Quaife
6:54 pm -Dave Emlen wrote:
I'm sad to report the death of Pete Quaife, the Kinks' original bassplayer. Pete died yesterday, June 23rd, of kidney failure after spending several days in a coma in a hospital in Denmark.
new:
web page started
Pete Quaife Canadian Interview 1988
Kassandra1Kink
|
31. des 2009
|
6:18
Dave Davies' statement
from his

Message Board
NME Festival Guide June 27, 2010 :

Ray Davies pays tribute to late Kinks bassist Pete Quaife at Glastonbury

Songwriting legend is also joined by a choir on the Pyramid Stage
The Kinks' frontman Ray Davies paid tribute to the band's recently deceased bassist Pete Quaife during his Glastonbury set on the Pyramid Stage today (June 27).

The veteran star dedicated The Kinks' classic 'See My Friends' to his old bandmate, and later played two tracks from what Quaife claimed was his favourite Kinks album, 1968's 'The Kinks Are The Village Green Preservation Society'.

Speaking about his old friend, who died of kidney failure last week (June 23) aged 66, Davies told the crowd, "I wouldn't be here today if it wasn't for him." LINK
Rest In Peace Pete

Rest In Peace Pete
Ray Davies(Kinks) Waterloo Sunset Glastonbury 2010
Ray Davies dedicates the Kinks classic to Pete Quaife
Please send us your memories:

pete@WhyKinks.net
Facebook
RollingStone
CBC
Kinks乐队原贝斯手佩蒂-夸伊弗病逝 终年66岁
Pete Quaife
est mort
The Kinks: morre
Pete Quaife
, baixista original da banda
Muere el bajista de los Kinks
Zemřel z The Kins
E' morto
Pete Quaife
, ex bassista dei Kinks
Умер оригинальный басист The Kinks
Oorspronkelijke bassist Kinks overleden
Umro basista Kinksa Pit Kvejf
ザ・キンクスの初代ベーシスト、ピート・クウェイフが死去
Basista The Kinks nie żyje
Tidens Krav
ABCnyheter
yo la tengo 6 26 10 - 4
Kinks cover in memory of Pete Quaife.
Left Coast Live Festival San Jose CA
Pete Quaife - At your doorstep
Lloyd and Rob visited Kinks London and one of the many places we visited was Pete's home in Muswell Hill and the school he, Ray and Dave attended. This is an excerpt from Two For The Road.
quaifetribute.mov
On Thursday I was very busy, taking care of my family and finishing a recording session, when I saw very briefly that Pete Quaife of the Kinks had died. I didn't have time to process it until I was performing at my regular Thursday night sunset show in Hawaii Kai. I sang a couple of songs in his honor, and managed to capture it with a Flip that was in my music bag.
Ray Davies is 66 on the 21/6 2010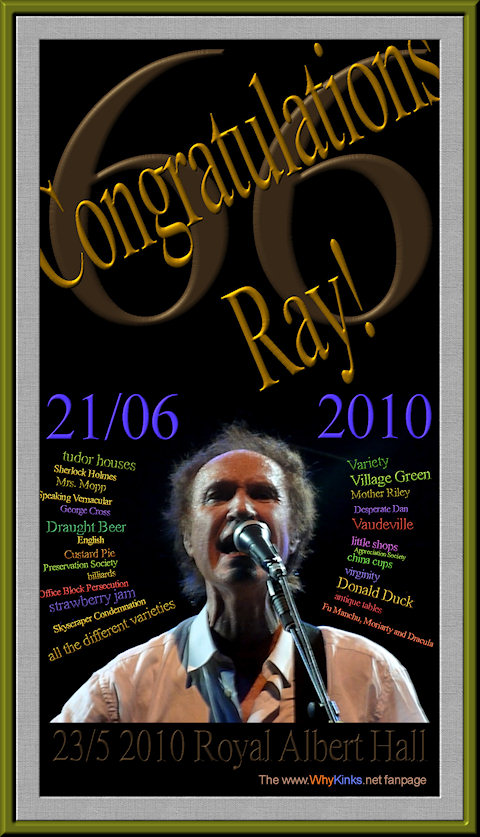 Click on picture, for bigger version!
Why
Kinks
last picture of Ray is from Royal Albert Hall 23/5 2010
Ray is still going strong, it was a fantastic show!
Old news:
| 2010: -4 -3 -2 -1| 2009: -3 -2 -1 | 2008: -2 -1 |
| 2007

:-

4

-3 -2

-1

| 2006:-5 -4 -3 -2 -1 |
| 2005:-3 -2 -1 | 2004:-3 -2 -1 | 2003 |